Contemporary Worship
day one worship
Engaging worship. Bold, biblical teaching. An intimate atmosphere.
That's Day One.
Connect with other believers. Belong to a community seeking to follow Christ. Understand what God's word says. Believe God is who He says. Worship the One who gave His life for you.
Come and see what we're about, and be a part of this growing group of worshippers.
Sundays at 10:50am in the Sanctuary.
DAY ONE CHRISTMAS | DECEMBER 13
---
New album release
As a worship team, it is our deepest desire to put praise on the lips of God's people, to create moments in worship where we simply meet with God in His presence. We have called this album Sanctuary. A sanctuary is a place of refuge and safety, or a holy place. Psalm 77:13 declares that God is in the sanctuary. These songs express our hearts desire to rest and take refuge in the presence of God. The Psalmist said, "He who dwells in the secret place of the Most High, shall abide under the shadow of the Almighty." Then listen to the declaration, "I will say of the LORD, HE is my refuge. My God, in Him, will I trust." (Psalm 91:1-2)
Every Sunday, we worship in the beautiful historic First Dallas Sanctuary. It was erected generations ago by people who desired to create a place to meet with God. Because of the union of Christ with His church, the sanctuary is no longer confined to a geographical location. This place of refuge is found directly in the presence of God. HE is our hope. HE is our resting place. HE is our Sanctuary.
It's our prayer that as you hear this album, your heart is filled with sweet moments of worship, finding refuge and restoration in the presence of God.
New album - sanctuary
Day One Worship's new album, Sanctuary, is now available for purchase on iTunes.
You may also purchase it directly through our website merch store.
---
From the Dust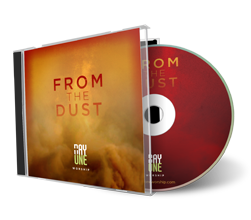 In 2014, Day One Worship released their Live Worship Recording From The Dust! The album is available on iTunes, or see below to purchase the album, bundle sale, and songbook.
---
my day one - Jimmie Clayton/Nate Curtis
---
NIGHT OF WORSHIP
First Thursday of the Month | 7pm | Atrium
Join us for a night of worship with Day One Worship. Childcare and coffee will be available.
REGISTER FOR CHILDCARE
Upcoming Dates: November 5
FIRST NIGHT OUT
Join us one Friday every month for a fun activity the whole church family can enjoy. Childcare is available.
CLICK HERE to see this month's event
---
day one worship store
Day One Worship is stepping outside the doors of our church to embrace a national audience. Distributed by in:ciite and Capitol Christian Distribution, Day One Worship albums are available on iTunes and at your local Christian music retailer. Day One Worship is also featured in FairHope Direct. Our resources are available for purchase at the links below.
Bundle Deal: $28

Album, Songbook, t-shirt, Top 25 2015 album, and 2 studio session song downloads

$13

$15

$10

Top 25 Album 2015

$12

Top 25 Album 2014

$10
| | |
| --- | --- |
| | Extended Version |
| | $15 |
| | $20 |
Upcoming Events