AWANA
"Do your best to present yourself to God as one approved, a workman who does not need to be ashamed and who correctly handles the word of truth." - 2 Timothy 2:15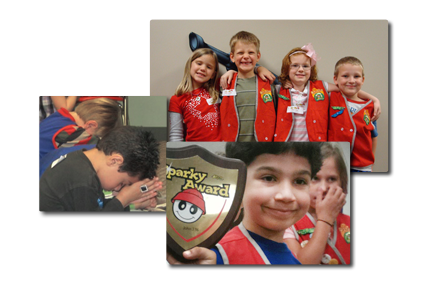 AWANA stands for Approved Workmen Are Not Ashamed. The goal of AWANA is to provide a solid foundation our children need to grow and become adults who know, love, and serve the Lord. We have classes for toddlers through 6th grade, each designed to minister to your child's developmental and spiritual needs.
When & Where
Wednesday nights | 6:30-8:00pm
New Members & Visitors: Check in on level 2 of the Horner Family Center
Puggles: Meet on level 1
Cubbies & Sparks: Meet on level 2
T&T: Meet on level 3

Theme Nights
September 26
Splash Night
October 24
Awana Verse-a-thon
October 31
Create-your-own Superhero
November 28
Western Night
December 12
Decorate-your-leader Night
January 23
Pajama/Stuffed Animal Night
February 13
Go Red!
March 20
Camping Night (preschool only)
Awana-in-the-park (elementary only)
April 17
Ice Cream Night
May 8
Hilarious Hairstyle Night
Classes and registration
Puggles: 2-years-old by 9/1/12 
REGISTER HERE
Cubbies: Preschoolers entering Kindergarten by Fall 2014, and 3-years-old by 9/1/12
 REGISTER HERE
Sparks: Kindergarten-2nd grade
 REGISTER HERE
T&T Adventure: 3rd and 4th grade
 REGISTER HERE
T&T Challenge: 5th and 6th grade REGISTER HERE
Volunteer
To get involved as a volunteer or receive more information, email , or call 214.969.2432.